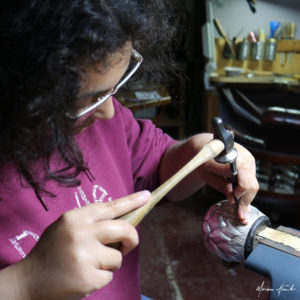 In summer 2018 I received a series of emails from two very determined students – Sana Pathan from Paris and Julius Hanl from Vienna. Sana, 20, who had just finished studying chasing and repoussé for 5 years at École Boulle – the only design school in France officially teaching the technique – was already significantly accomplished at the skill and was also keen to come on a three month internship at my workshop. She had previously undertaken internships at Goossens, Paris, a couture jewellery house owned by Chanel and specialising in handcrafted jewellery and objects; Alberto Quiros, a professional chaser in a metalsmiths' workshop in Granada, Spain; and, via École Boulle which has a long standing partnership with them, Vacheron Constantin, the Swiss luxury watch manufacturer.
Julius, 17, from a Higher Technical School in Steyr, Upper Austria, had been focusing on hand engraving as his metalwork subject and had already gained impressive control over the techniques used in gun engraving – namely fine scrollwork and inlay of precious metals into steel.
Both students hoped to expand their existing knowledge of chasing and engraving as well as pick up some new silversmithing skills whilst working in my workshop.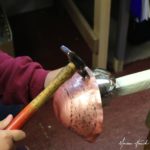 Their first project was to raise two vessels in copper. Although Sana had no prior experience of hand raising, she picked up the technique fairly quickly and soon had two copper canvases to do some chasing and repoussé tests on for a new petal design tumbler I'm working on. After doing a trial run of the chased design on copper, we moved on to one of my silver tumblers.
The petal design is based on an exaggerated version of the Blue Cupidone (one of its common names is 'Flower of Love') and is one of my experiments exploring how far the silver can be pushed with repoussé from the inside without it thinning, using a technique called snarling.
Sana started off the chasing and forming, working at a steady but skilled pace, with great stamina and determination. I have since continued the chasing, defining the bulbous shapes and forms further and applying texture.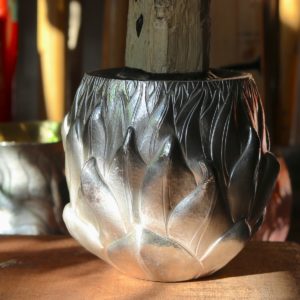 Sana had already demonstrated great skill in the chasing technique during the internship and a well-practised control over the tools, so I had great confidence in her starting off the chased lines. The silver tumbler had to be filled and emptied of pitch three times to achieve this effect, chasing on pitch and snarling without pitch repeatedly to push the metal further into contours. I am very pleased with the result, and while I worked on commissions Sana was able to explore this technique within the 'Flower of Love' tumbler which is something I wished to experiment with but did not have sufficient time to do!
Silver is a material Sana had not worked with previously and she was grateful to have had the chance to experience working with it. Additional silversmithing and jewellery work carried out by Sana during her internship included bespoke jewellery fabrication, finishing, hand engraving and steel forging at Kingdom Forge Blacksmithing workshop where we went for a day of hammer head forging. She also found time in between the tasks that I set her to work on her own chased designs of silver bangles – very intricate and delicate chasing at a minute level!
While they were with me I took Sana and Julius to visit the Goldsmiths' Centre 'Renewal' exhibition and the Goldsmiths' Company Modern Collection. We were able to see many exquisite examples of British craftsmanship in silver and gold. Another big highlight of the internships was the trip to the week-long silversmithing and engraving symposium hosted by Malcolm Appleby where we all had a brilliant time exchanging techniques and skills with the other makers.
I was very pleased with how Sana took to the work during the 10 week internship, approaching the metal with patience and acceptance of the time needed to achieve a result which demonstrated excellent quality craftsmanship. Her feedback on completion of the internship was gratifying:
"I learned a lot of different techniques like engraving, hand raising, snarling and a little bit of hammer and chisel but mostly I learned to work with silver. I was showed an easier way to chase bowls and cups, other materials to fix pieces like the 'thermo-loc' that is perfect for really precise chasing and for holding your work for engraving (I never saw it in France). Also, I learned a lot about starting my own workshop, how to find clients and how to put a fair price on my pieces (I have found that this can often be complicated when starting).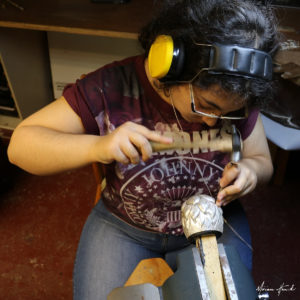 The atmosphere in the workshop was incredible, it gives you this will to work without watching the hours pass and a lot of inspiration and productivity to work on your creations. And when you are tired and want to cool down you can take a walk in the garden or the field, it is relaxing and you can start again with a fresh mind.
Thanks to Miriam I had the chance to see the great collection of the Goldsmiths' Company which has many beautiful antique and modern pieces. It was amazing to have a tour from our guide Charlie because he had knowledge of the history of and interesting anecdotes about many silver pieces. It was amazing to see some silversmiths that were really ahead of their time in the style of their work and ornamentation and to see so many different shapes and styles of work using the same techniques.
For me it was not only a really amazing and inspiring internship, but also a life experience, where I finished having the feeling I had grown and matured. Thank you again for this amazing internship."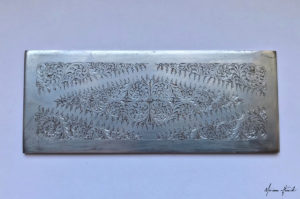 Julius spent a significantly shorter time at my workshop – 4 weeks. However he accomplished a great deal during his brief trip, including hand raising two copper beakers, hand engraving a scrollwork steel plate and also designing new scrollwork to include inlay using fine silver into steel. The hand raising projects included a forging technique applied to one tumbler designed to achieve a heavy base which would enable the vessel to rock without falling over. Julius' determination and resourcefulness served him well throughout the internship and he managed to finish hand engraving a steel plate with fine scrollwork in between working on his raising projects.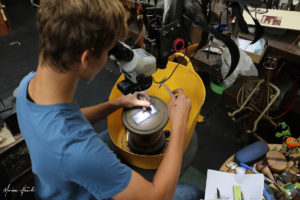 Something Julius was keen to develop was his inlay of fine silver into steel, and also the design development of scrollwork surrounding it. Inlay can be a tricky technique to grasp, however Julius persisted patiently during the symposium and came away with a brilliant result.
Having had some experience of inlay during my earlier visits to Malcolm Appleby's workshop –who incidentally also taught me hand engraving – I know how time consuming it can be, so I was very happy to keep an eye on the whole process while I concentrated on commissions. In the often stifling heat this summer, Julius helped with workshop tasks such as the finishing of silver jewellery and the fabrication of bespoke tools as well as doing the honours of walking our workshop dog – Thyme!
"Although my time at Miriam's was pretty short, I learned and achieved a lot during the four weeks. The internship has not only improved my craft skills but also my personal development. Being on my own for one month was difficult in the beginning, but thanks to Miriam's kindness and helpful character I was able to manage this challenge. She is such a nice and calm person and a really good teacher, who knows her trade in great depth and much more. It was such a brilliant working atmosphere in the workshop, that in the end I didn't really want to leave.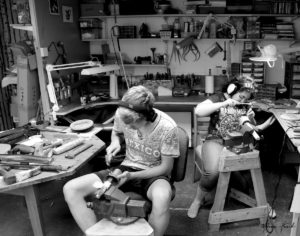 I improved my silversmithing techniques and learned many new ones. For example, Miriam's way of raising silver/copper is much more efficient and completely different than the one I have learned at school. It was helpful that Miriam allowed me to use her workshop also on the weekends, when I practised engraving on my own. The internship also made me think in a new and contemporary way of designing and has inspired me with many new ideas.
Furthermore, Miriam also arranged some extra activities with us besides working in the workshop. Spending a week at the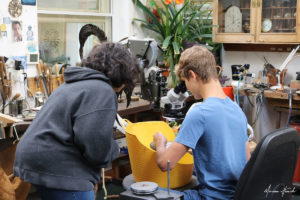 symposium at Malcolm Appleby's workshop was such a great experience. There I had the chance to meet many makers from the great silversmithing community in the UK, where I have noticed what a huge market there is for this craft. We also travelled to London to the Renewal Exhibition at The Goldsmiths' Centre and to see the Modern Collection at Goldsmiths' Hall, which I would never have seen without Miriam.
It was for sure the best internship I have had and I wish I could have stayed longer, so thank you very much Miriam."
Overall we had a productive, rich and creative time in the workshop this summer and there is the potential for future partnerships and visits involving Sana and Julius.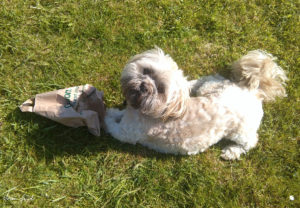 Creative collaborations such as these always make me appreciate the wonders of the great craft techniques of silversmithing, chasing and repoussé and hand engraving. I also feel continuously inspired to bring more of my unmanifested ideas to life, presenting experimental effects on silver pieces achieved through the often time consuming and painstaking application of these ancient methods of working with silver. So to conclude I found Sana and Julius' visits brought me new excitement and enhanced inspiration to continue working with the material and techniques which I love.
You might like to see the new pieces in my gallery or read about upcoming exhibitions, or perhaps peruse my inspiration gallery to see potential themes which could inspire future commissions!