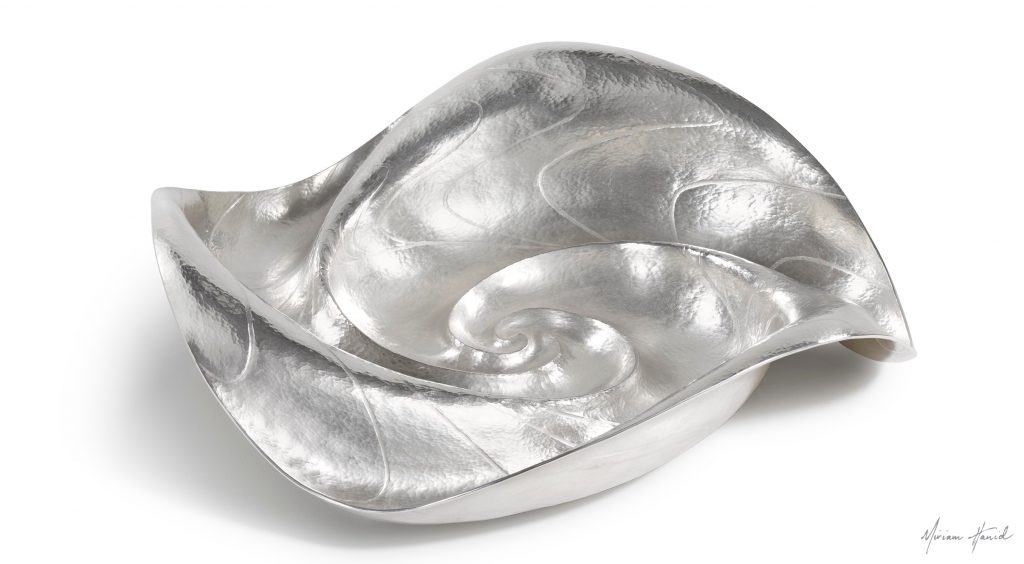 Discover the exciting journey of commissioning
Visit the gallery at the bottom of this page to see some of my previous commissions.
The decision to commission a bespoke piece of silver, either for yourself or as a gift or award, is to embark on an exciting journey. Here are the key steps:
1.    The concept
You may not have a specific idea of the kind of piece that you'd like, the type of object that it might be, the look that you would prefer or how much it might cost. You may have an inkling of the 'feeling' you would like to capture or might have been inspired to approach me because you were attracted by certain aspects of my work.
2.    The element of surprise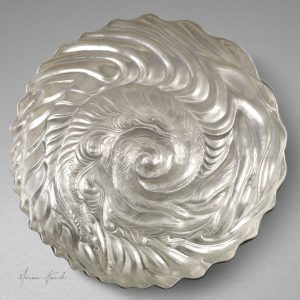 Some clients prefer to have an element of surprise and discovery, which is something that I always welcome as an artist. They might explain their idea or their motives, in the case of a gift, then leave me to explore a theme or visual quality, allowing a new creation to unfold without a definitive design having been agreed beforehand. This trust in both the inspiration and the execution of my work, usually prompted by a respect of and familiarity with my earlier pieces, invariably results in my most successful projects – this commissioning approach goes to the very core of what it means to be an artist and a craftsperson and always fills me with joy.
After hearing your initial thoughts I will suggest some ideas and respond to yours regarding the main form of the piece. Price range will also be discussed at this stage together with different options such as the amount of detail and complexity of the piece, which can be adjusted to suit your budget.
3.    Written proposal
I will then write to you with the agreed brief, a price range for your review and confirmation for me to 'go ahead' and start designing.
Once the type of object has been agreed, as well as a price range for its production, the silversmithing techniques to be featured in the piece, or the 'feeling' to be captured, I will happily produce drawn concepts, if required. These can range from a rough sketch with dimensions to very detailed drawings or a model showing a realistic rendition of the piece.
Depending on its form or shape a 3D model might be useful to show the actual scale and measurements. Upon final agreement of the proposed design and fee, a commencement deposit of 50% of the agreed price is required in order for me to start work.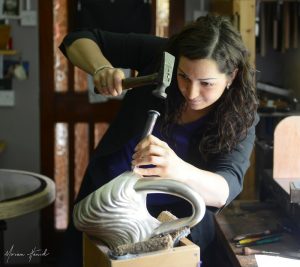 5.    The making in silver
The hands on process of making tends to be quite a reflective time for me, focussing all my attention on the production, and often delving deep into the inspirations behind the design, beyond its outer appearance. As I commence the hammering or engraving, I will often have absorbed much about the particular flower, animal, tree or plant which the piece is drawn from during my research and 'thinking' time for each commission. I feel that learning about the history or symbolism pertaining to a particular theme is integral to what goes into the piece, giving it resonance and infusing it with meaning.
I will often document the process by photographing each stage. If you wish, as the client you can see these images upon completion giving you an insight into the techniques and tools involved in making the piece.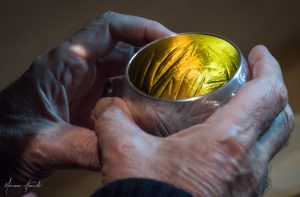 6.    Completion and presentation
The completion of the piece is almost always the most satisfying moment, for that is when you will get to hold the handmade silver object in your hands, and connect with a three-dimensional representation of your initial visualised idea. It is also a very happy moment for me as I present a piece which I am truly proud of and one which realises and hopefully surpasses your vision and original hopes in terms of its artistic quality.
Starting the conversation
The journey of commissioning a silver piece is a highly personal and individual process and I would be happy to answer any questions you might have in order for us to work together to create a bespoke item that is truly special to you. I always love hearing new ideas and welcome technical challenges too – it would be a pleasure to talk through your aspirations and dreams in order to create a hand chased or engraved silver piece which will be treasured for years to come.
Please contact me for any further details regarding commissioning a bespoke piece of silver.
You might enjoy visiting my main gallery to see silver pieces both past and present! Join my mailing list to the right of this page to keep up to date with latest commissions and other news, or visit the exhibitions page to see where I'm currently showing my work.