The art of Japan has always intrigued me. Its unique style of storytelling through imagery is fascinating – from the more traditional calligraphy, woodblock prints and ink paintings to Manga-style works, a visual form of storytelling which allegedly dates back to 12th and 13th Centuries. Manga became more mainstream in Japan in the mid 20th Century and has now expanded from comics and prints to a global industry influencing animation, film, street art, fashion, gaming and more.
Some contemporary Manga caught my eye for their exquisite and painstakingly meticulous mark making and vivid, graphic style in representing shadow and light – see these nature inspired examples below:
Manga is such an interesting all-encompassing genre and has such a wide reaching appeal. I feel that this must have evolved from more traditional Japanese art. What draws me to that, among other things is how mundane human activities are highlighted in a beautiful way, using flowing curves and patterns which are fluid and stylised. Man's relationship to and observation of nature and fellow human beings are often portrayed in a way which expresses visual depth and hidden wisdom within the narrative.

Simplicity of line is a key element of Japanese painting and woodblock printing and this factor really stands out for me. This clarity of vision is also reflected in the pure, flowing lines of Zen gardens. In Zen art, the focal point of a painting is often surrounded by negative space in order to draw the viewer's eye further in towards the object, such as in the ink and gold painting Birds and Flowers – the two birds have plenty of space around them highlighting their intricacy, interaction and presence within the landscape. The reduction of colour range emphasises this simplicity. These elements are reflected in some of the images below from The Zen Gardens at Kew. These are traditionally designed to be viewed from a fixed point, and seem to be an element of nature tamed, as they are carefully planted and then maintained for optimum visual effect from different angles.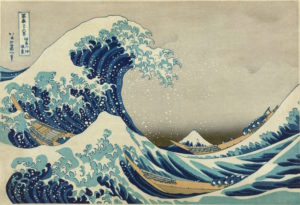 Katsushika Hokusai's iconic Great Wave off Kanagawa is one of my all time favourite woodblock prints which shows tiny fishermen in comparison to the vastness of the waves. The waterfall prints below, also by Hokusai, remind me of my A-Level Art and Design course when I studied them both in watercolour. These great works among others, have perhaps influenced my current signature work via my subconscious!
"Kirifuri Waterfall at Mount Kurokami in Shimotsuke Province'' (left), and "Amida Waterfall Remotely Beyond the Kisokaido" (right) are part of a rare set of first edition impressions of Hokusai prints.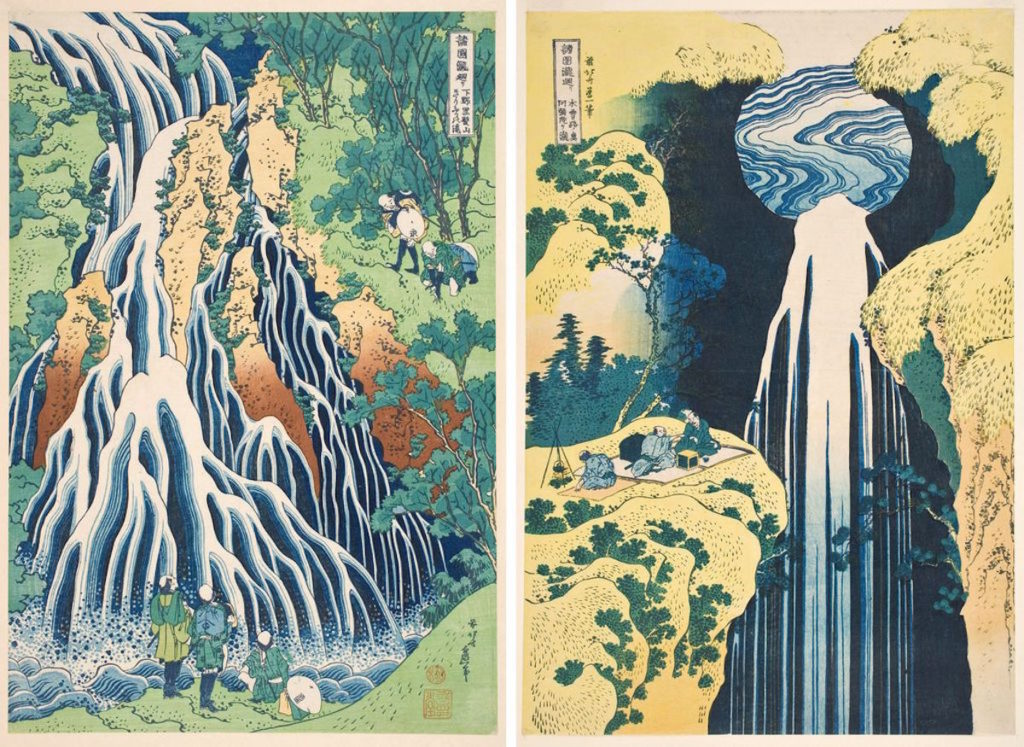 Landscape as Sacred
"Nature, and specifically mountains, have been a favourite subject of Japanese art since its earliest days. Before Buddhism was introduced from China in the 6th century, Shinto was the exclusive faith of the Japanese people. At its core, Shinto is the reverence for the kami, or deities, who are believed to reside in natural features, such as trees, rivers, rocks, and mountains.
In Japan, nature is not a secular subject. An image of a natural scene is not just a landscape, but rather a portrait of the sacred world, and the kami who live within it."
(Guest Blogger, Japan Objects) https://www.insidejapantours.com/blog/2018/09/11/guide-traditional-japanese-art/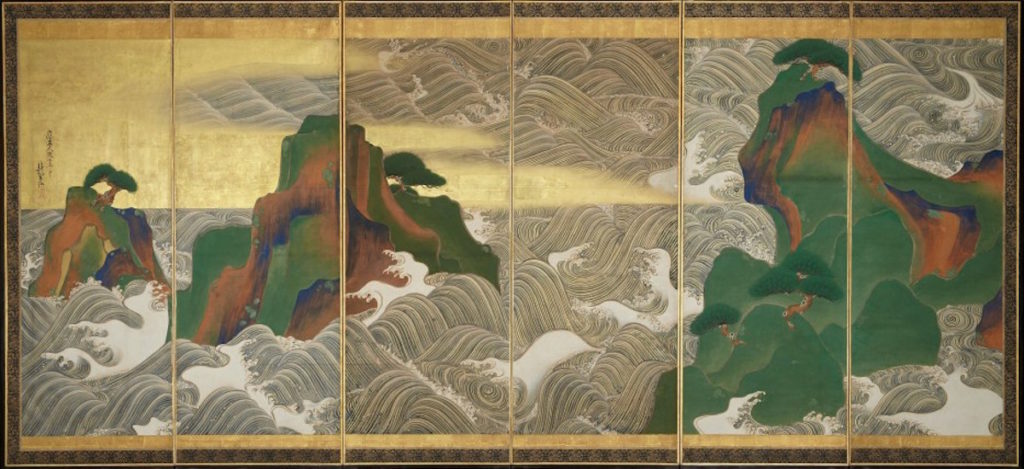 A common theme of Japanese art is landscape.
"We find it explicitly maintained by painters that landscape is the highest sphere of art".
(The Flight of The Dragon' by Laurence Binyon – An Essay on the theory and practice of art in China and Japan, based on original sources)
I am particularly interested in how Binyon writes about suggesting infinity within design and painting:
"Such a view seems strange to us, contrary as it is to all our traditions. We shall not understand it unless we remember that, to these artists, the highest effort of art was to suggest infinity, the infinity that belongs to the free mind of man".
Speaking to the sense of infinity in another human being seems particularly exciting to me, especially where this connection takes place in a sphere in which an object or artwork of beauty plays its part.
Continuing on the same theme, a Chinese artist of Sung period Ku K'ai-Chih in the 4th century said:
"In landscape subjects only, is there depth and distance." and describes "figures, birds, flowers and insects as secondary and belonging to artisan art"
Kuo Hsi in the eleventh century:
"Why do men love landscape? In his very nature man loves to be in a garden with hills and streams, whose water makes exhilarating music as it ripples among the stones.
Landscape is a big thing, and should be viewed from a distance in order to grasp the scheme of hill and stream; but figures are small matters, which can be seen close and taken in at a glance"
With this line of thought in mind, a particular project which I enjoyed working on is the Mountain Incense Burner. It is one of the most literal pieces that I have made, using the idea of a more natural landscape than the curated order of Kew's Japanese gardens. It spirals round the form culminating in waves which swirl around the stem and base of the piece. Effectively using a 3 dimensional canvas, I like the chasing to flow with the form, allowing it to take on a different dimension in its perspective, rather than being like a flat drawing on a 2D canvas.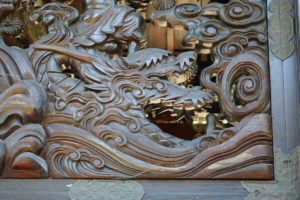 The wooden carvings in the Japanese Gardens at Kew* inspire me with ideas for the translation of 2D motifs into 3D. I particularly love how the relief within the waves, that are depicted in wood, create dramatic outlines and shadows when the light hits them. This makes the fluid quality of line so often present in the Japanese style even more pronounced, and offers more of a sense of perspective within the whole work. Chasing and repoussé also lends itself to creating a sense of perspective, adding a 3D quality and relief into a flat surface of metal.
*Chokushi-Mon (Gateway of the Imperial Messenger) is a near replica of the Gate of Nishi Hongan-ji (Western Temple of the Original Vow) in Kyoto, Japan.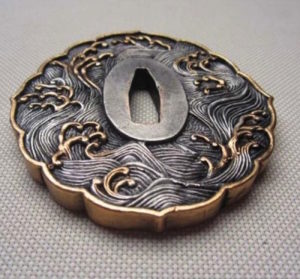 Tsuba (hand guard of a Japanese sword) engravings and carvings are also very appealing to me and interpret the pared down details of Japanese line work in a low relief way without compromising the dynamic contrast of light and shadow. The addition of gold picks out detail within the designs, giving the pieces an additional sense of perspective through the medium of metal colours.
Chasing as a technique naturally invites one to reduce natural forms down to their minimum essence in order to be chased on metal. A photographic effect can certainly be achieved through different textured and shaped punches (chasing tools) which capture the light in various ways, giving the effect of a variety of shades or 'colours' within the design. Within the Mountain Incense Burner design I studied pictures of terraced land in the mountains, and the way the landscape grows feinter with the increasing perspective.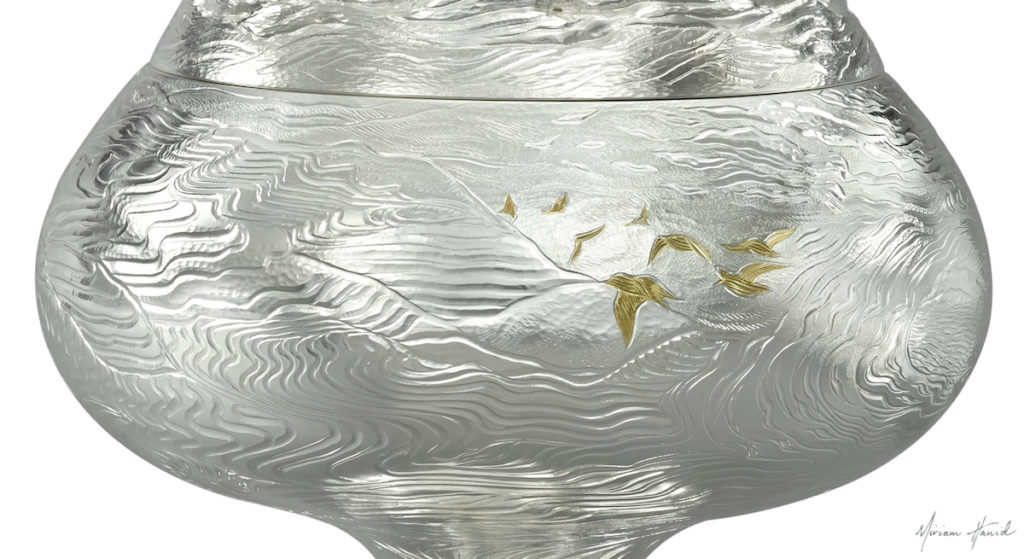 I aim to portray the idea of infinity within my work, and while not specifically focusing on landscape in a literal sense, I have noticed that I now intuitively enjoy creating a landscape of texture and pattern in my chasing and engraving process that has a distinct feeling of depth and distance. I often use gold to highlight and accentuate certain aspects of the design.
I have gathered a collection of Oriental water and nature themed imagery which inspires me (including those shown in this blog post) and which I like to develop further in my own style – you might enjoy perusing the gallery below for inspiration. These themes would work very well reinterpreted into my own style as chased or engraved canvases of texture and pattern within new designs, perhaps also as singular themes within smaller pieces. Please feel free to contact me to discuss any ideas that you might have for commissions! Some of my favourite concepts are below, together with recent Elements caddy spoon designs. I can also see much more scope for future related projects in silver or gold.
You might like to see current pieces available on my shop page, read more about the commissioning process, or view my gallery for new images of recently completed silver works.