I feel fortunate having had the opportunity to practise Heartfulness Meditation for over 14 years. Since then My daily practice has played a big part in my creativity and work as a silversmith. I also volunteer my time as a Heartfulness trainer assisting seekers with their own meditation practice through one-to-one and Group Meditation sittings. It seems very fitting and rewarding to have now had the chance to blend these vital parts of my life together in a design project for Heartfulness.
"Practising Heartfulness Meditation helps us experience the wisdom of our heart and, in doing so, we learn to let go of fear and to trust ourselves and our intuition. We can also become calmer, clearer, more effective and balanced."
I have often dreamt about potential silver designs which could be batch produced and sold to raise money to expand the ongoing work of Heartfulness, a Registered Charity,  – which offers free of charge meditation through volunteers in over 150 countries. This simple heart-based practice is now available within organisations including small and large businesses, universities and as teacher training with regular sessions also on offer to students over 18 and the general public.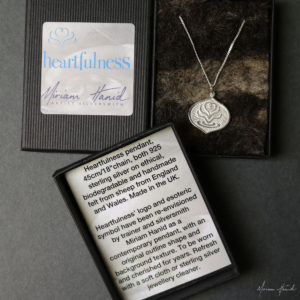 Heartfulness Meditation has innumerable benefits and also works as a preventative measure for stress and burnout. These are increasingly prevalent in today's modern society which encompasses hectic schedules, neverending to-do lists and the quasi-constant presence and instant demands of technology, all of which compete for our attention alongside the everyday practicalities of simply living.
The Daily Telegraph reported, based on the research of Dr Yi-Yuan Tan, that "after meditation training of 20 minutes once a day for only five days, people had measurably less anxiety and lower levels of the stress hormone cortisol". The report stated that levels of anxiety, depression, anger, and fatigue had also gone down.
(https://www.nhs.uk/news/lifestyle-and-exercise/does-meditation-reduce-stress/)
(https://www.sciencedirect.com/science/article/abs/pii/S0260691716000642)
There are other similar studies which show that regular meditation practice offers a solid foundation to assist in the management of stress and its effects on our physical and mental welfare. I am a firm believer having enjoyed the benefit of Heartfulness meditation in all aspects of my own life. These studies also demonstrate that meditation can help regulate our level of focus, sleep quality, memory, empathetic responses, emotional resilience and much more. See this page for more detailed information on how meditation practice alters the physical anatomy of the brain. In an environment in which the World Health Organisation has declared stress as the 21st Century epidemic, it follows that we need meditation more than ever in our daily lives.
In late December 2018 I visited Kanha Shanti Vanam, Hyderabad, the Headquarters of Heartfulness Meditation and the world's largest meditation hall. I spent some wonderful days at the European Seminar and had the very special and much valued opportunity to meet Daaji – the Global Guide of Heartfulness – in order to present him with the 'Golden Book'. This is a collection of photos, quotes and dates drawn from 'The Heartfulness Way' Book tour in the UK earlier in the same year. (Click to view 'The Heartfulness Way' on Amazon UK, written by Kamlesh Patel and Joshua Pollock)
I was able to show Daaji an image of one of my silver cups and offered to design something for Heartfulness. He replied "It would be good if you can!" and so the journey began.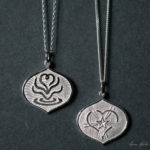 While driving home from the airport, a few different ideas bubbled up in my mind and I excitedly started to crystallise them into potential ideas for jewellery pieces. I worked with friend and CAD designer Sharon Harvey over several weeks on a design for a pendant and these efforts evolved into the final design. The Heartfulness logo on the front – with its ripples from the heart expanding outwards –features subtle waves in the background which I designed to represent transmission – the unique feature of Heartfulness Meditation. The organisation's esoteric symbol design on the reverse is available to practitioners of Heartfulness as a tool to help deepen their daily practise. Including this motif was a result of discussions and exploratory meetings between Vineet – one of the Heartfulness Vendors at Kanha – and myself. Initially I wanted to incorporate coloured enamel within the surface of the pendant, however time did not allow it for this batch of pendants. However I am in touch with enameller Ruth Ball about creating a limited edition of enamelled pendants in future.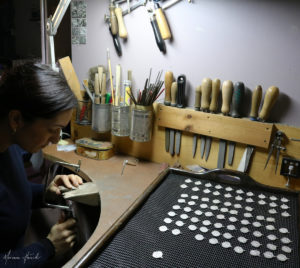 The initial batch of 100 pendants were 3D printed and cast in sterling silver before being finished and polished individually by hand. I used ethically sourced handmade felt for the inserts inside the recyclable boxes for a natural and biodegradable option, and we had great fun making the felt with help from local meditators who enjoyed being involved in the project.
This special edition of pendants with sterling silver chains were on sale at Kanha Shanti Vanam for the 147th Birth Anniversary Celebrations of Lalaji – the original founder of the movement – from 28th January – 9th February 2020, and for ongoing sale within the UK and Europe to order through my contact page.
To learn more about Heartfulness, please visit: https://www.heartfulness.uk/
Click to read more on Kanha Shanti Vanam, the world's largest meditation hall
Learn more about my silver pieces inspired by my journey in meditation
or visit the gallery to see the full range of my work