FORTHCOMING AND CURRENT EVENTS
I regularly take part in high profile exhibitions in the UK and overseas. Please check below for details of forthcoming shows. For details of some past exhibitions that I have taken part in you will find some details in the relevant News section of the website and on the past shows page.
I am looking forward to exhibiting at: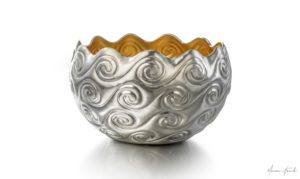 Bishopsland Exhibition and Shopping Experience
Cutlers' Hall, 4 Warwick Lane, London EC4M 7BR
27th November 2023, 4.30 – 7.30pm
This one day event will be a unique opportunity to see hand-made contemporary work by our current cohort and a selection of Bishopsland Fellows. Entry is free but numbers are limited and pre-registration is necessary.
---
You might also be interested in visiting my Shop which showcases a few of the pieces that are for sale direct from my studio. These items can be safely delivered to you all over the world, in the UK via Royal Mail and by registered courier further afield. Please contact me for details as well as with any commission enquiries.