FORTHCOMING AND CURRENT SHOWS: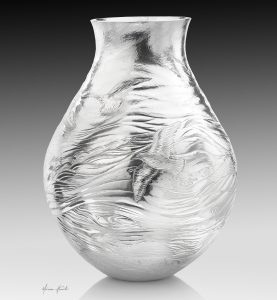 Contemporary silver for auction at Bonhams, Knightsbridge


27th September 2017 at 10.00 BST
'Contemporary British Silversmiths are delighted to be participating in the Decorative Art & Design Sale at Bonhams, Knightsbridge on the 27th September.
The sale includes my Birds In Flight Vase (detail above) and marks the first collection of contemporary silver to come to auction straight from a significant museum display.
The sale will feature pieces made by members of British Contemporary Silversmiths, which were shown at the recent V & A exhibition 'Silver Speaks: Idea to Object', curated by design critic and curator Corinne Julius, and at  'Silver Speaks: Form' an exhibition held at the Goldsmiths' Centre.
Representing 39 of the best British contemporary silversmiths, this auction offers an exciting opportunity for collectors to buy unique pieces'. See the event pages on Bonhams and Contemporary British Silversmiths websites for more information, and an article in the Financial Times about the sale.
---
'Showstoppers: Silver Centrepieces'
Exhibition room, Temple Newsam House, Leeds
13 May 2017 – 29 October 2017
9 June 2017, 2pm-3pm: Talk by artist silversmith Miriam Hanid
10 June 2017, 10am-1.30pm: Miriam Hanid: silversmithing demonstration
A theatrical experience that will present two iconic historic objects from the Temple Newsam collection in a completely different way, with an opportunity to see work by major contemporary silversmiths. This exhibition will also celebrate the role of women in silver – either through the creation or ownership of the objects on display.
Four silver centrepieces will be shown, two antique, two modern: my Deluge piece from the Goldsmiths Collection and one by Junko Mori. The exhibition will take two iconic pieces from Temple Newsam's silver collection – the chinoiserie epergne and Kirkleatham Centrepiece – and present them in a new, theatrical setting. Through a careful juxtaposition with Junko's and my silver centrepieces, it will offer visitors a new insight into the possibilities of silver as an expressive art form.
9 June 2017, 2pm-3pm: I will be giving a talk in which I will explain how I started my silversmithing journey' and how it has evolved into creating large commissions for a range of collectors and private clients. The inspiration I use in my work comes from many sources, and during the talk I will give some insight into how I create my sculptural silver and what tools and techniques make my work so unique.
10 June 2017, 10am-1.30pm: I will be doing a silversmithing demonstration, an exciting opportunity to see me chasing and engraving in the Great Hall at Temple Newsam. These techniques were used to dramatic effect in the creation of Deluge Dish which will be on show.
Read more: Showstoppers: Silver Centrepieces
PAST SHOWS:
---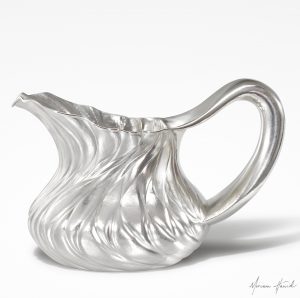 'Inspired 2017'
with British Silver Week for London Craft Week
The Goldsmiths' Centre, London
3rd – 6th May 2017
Inspired 2017 partners the Festival of Silver and The Furniture Makers' Company, creating collaborations between bespoke Guildmark furniture makers and studio silversmiths. Supported by the Goldsmiths' Company, the Goldsmiths' Centre and Craft in Focus, 'Inspired' is a selling exhibition of luxury, contemporary silverware and bespoke furniture by the UK's finest craftsmen and women.
On show: My latest signature piece Cascade Jug.
Read more about 'Inspired 2017' and The Festival of Silver.
---
'Silver, Light and Shade'
with Contemporary British Silversmiths
Holburne Museum, Bath
22nd October – 22nd January 2017
An exhibition that brings together historic and contemporary silver masterpieces to tell a new story about the texture, form and colour of this precious metal.
On show: Coriolis Centrepiece, large silver vases, small silver bowls, napkin rings and jewellery.
Read more about 'Silver, Light and Shade'
---
'Making a Winter's Tale'
Contemporary Applied Arts Gallery, London
17th November – 24th December 2016
The exhibition offers "a range of meaningful gifts at accessible price points, as well as high-value collectors' pieces. This CAA curated selection is imbued with skill, innovation and tradition. 
From the decorative to the functional and wearable, in a range of diverse materials from clay to precious gemstones, each handmade object is a one off. "  
On show: Silver engraved bowls and bangles
Read more about the exhibition here or visit Contemporary Applied Arts' website
---
'Winter Design Collection'
Roger Billcliffe Gallery, Glasgow
25th November – 24th December 2016
Roger Billcliffe Gallery specialises in exhibiting the best of Scottish contemporary and 20th century painting and also displays a wide range of contemporary applied arts – ceramics, jewellery, metalwork, silver and glass.
On Show: Chased silver tumblers, bowls and bangles.
Visit The Billcliffe Gallery website
---
'John Higgins Contemporary Silver' Exhibition
Lindfield, West Sussex
26th November – 18th December 2016
The gallery specialises in the sale of Contemporary Silver from leading British Silversmiths. "Our Winter Exhibition is increasingly popular for unique contemporary jewellery and silverware gifts." (John Higgins)
On Show: Engraved large silver vase, chased silver tumblers and bangles.
Read more about the exhibition
See images of 'Coriolis' and more about my work on the Contemporary Silver Gallery website