I'm delighted to officially launch my new look Miriam Hanid website today! I've been working on it behind the scenes for a few months now, refreshing all the content, modernising the feel of it and also changing onto a more interactive platform.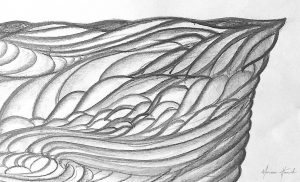 There's lots to discover throughout the site including news, inspiration, hand engraving and chasing, and a brand new gallery too! It's a work in progress as there are still sections to be completed and added. I'd love to hear from you if you have any comments or notice that something isn't working quite as it should be. Finishing touches are being added daily and this page is part of my new blog which will be updated regularly. You might want to join the mailing list (on the right of this page) to receive automatic updates about exhibitions and new commissions.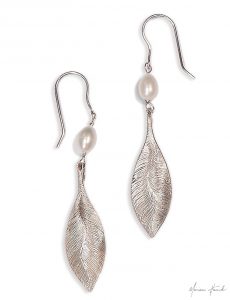 There is a new shop page which features some of the work that I have available for sale from my studio. This includes engraved bangles, earrings and necklaces – perfect for Christmas! You'll also find links to some of my stockists in the UK.
I've been busy working on commissions too – The Radiance Centrepiece which is being commissioned by The Goldsmiths Company for their Modern Collection, is well underway and I'm really enjoying chasing this piece, although it is physically hard work! There will be more to come in 2017 on the making of this piece which will include a film about the commission and how I've used the techniques of chasing and repoussé to produce my design.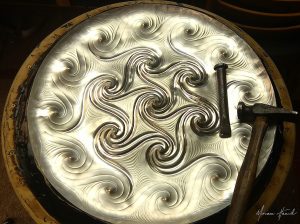 The making of this website has prompted me to journey through my creative practice and delve into sketchbooks, inspiration albums and photographs, and most of all, to draw out the themes of my signature style and weave them through this website! I've really enjoyed the whole process and after months spent constructing it, I am so pleased to be able to share it with you all. I've been working with Emma Boden from Armadillo Central, who has been a huge help in realising the vision of my new website, and working with patience, creativity and professionalism through the process.
As well as the website revamp I've been exploring Instagram and now have a fledgling page which I'm really enjoying running. I have included many shots on my Instagram page of the making process of different pieces, including Deluge, commissioned by The Goldsmiths Company, and have included a selection of these below.  If you're on Instagram pop over and say hello!
Check where my work is currently on show on the Exhibitions page.