"Art is not what you see, but what you make others see"
Edgar Degas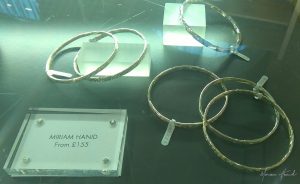 I felt the effect of this simple statement when I visited the Contemporary Applied Arts Gallery in Southwark, London. As one of the leading authorities on high-end British craft, CAA – which was founded in 1948 – is a trusted resource for collectors and first time buyers alike. With 350 maker members from all over the UK, the CAA gallery represents both established and emerging names. Two of my hand engraved bowls and a selection of my textured bangles in sterling silver are on display until 24th December as part of their seasonal selling exhibition 'Making a Winter's Tale'.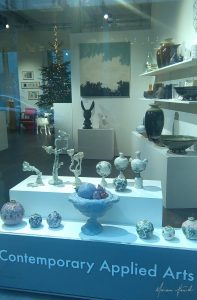 The exhibition offers "a range of meaningful gifts at accessible price points, as well as high-value collectors' pieces. This CAA curated selection is imbued with skill, innovation and tradition. 
From the decorative to the functional and wearable, in a range of diverse materials from clay to precious gemstones, each handmade object is a one off. " 
There was some cracking work on display – it was really a mesmerising visit. I walked out of the door feeling inspired and moved by many of the messages and textures from the other artists' work. It struck me how much of the work looked effortless, which to me is a sign of the artist or craftsperson having a true connection to their medium of choice. Although I couldn't take pictures of everything – there were many other pieces which were fascinating and beautiful to look at – I've highlighted a handful here for you to see the range of work and dynamic styles which the gallery exhibits from their members.
View the gallery below for examples of some of the beautiful work on display or Click here to see the exhibition page which includes their opening hours if you can't manage a visit to CAA. If you're on Facebook, click here to view more.