The project began with a request from Oliver Makower of Bishopsland Educational Trust, to attend a meeting at Drapers' Hall in London, to discuss a commissioned gift for a 'titled' person.
I subsequently found out it was for The Queen and was asked to submit designs for approval by the Drapers' Company.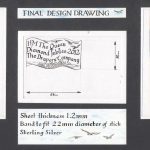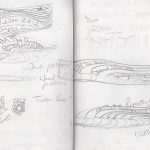 Here are some of the initial designs and a few of the sketches which were submitted to the Drapers' Company Master and Wardens.
These were the hand-drawn documents which won me the commission.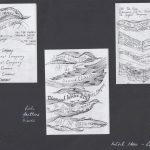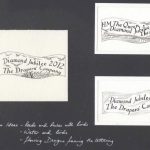 The stick itself was a specially crafted piece, featuring a beautiful grain in the ash and flowing patterns in the polished ramshorn. These colours complemented the silver band unexpectedly well I thought, the silver having a mottled texture, rather than being highly polished.
The scissors on the back of the handle are a trademark of the Drapers' Company who presented the gift.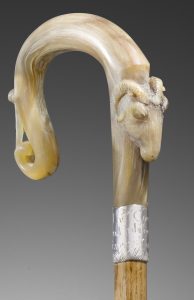 As I was working on this commission I took the time to complete each stage meticulously, and even though it was a small piece to work on, I found it very rewarding.
The band was finally 'sweated' on to the stick. This is a process whereby the silver band is heated before sliding it on to the stick. Once it is placed in the correct position it contracts as it cools and fixes itself to the object in question.
When the piece was finished I took great pride in travelling by train to Drapers' Hall in Bank, London, with a very long shaped box, catching the attention of quite a few commuters!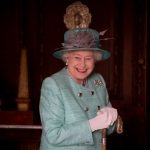 Both Bishopsland Educational Trust and The Drapers Company were thrilled with the final piece, and it was an honour to have the opportunity to work on a commission like this. The stick was presented by The Drapers' Company to The Queen at Burleigh House in spring 2012 as a gift for her Diamond Jubilee.
This commission is particularly significant for me due to my great-grandfather also having made two commissions for Her Majesty in 1952. I will save that story for a future post. In the meantime, it is not only an honour to have been involved in creating such an extraordinary commission to celebrate Her Majesty's Diamond Jubilee, but also to continue the line of craftsmanship which exists in the Hanid family.
To learn more about my specialist techniques, visit the chasing and engraving pages, or explore commissioning here.