Studio Silver Today
An exhibition to broaden awareness of the contemporary silver movement.
I was selected by The Goldsmiths Company to be Artist in Residence at Ickworth House, Suffolk, throughout the summer of 2012. Watch the film to discover more…
The 'Studio Silver Today' exhibition showcased several of my pieces, and three large silver centrepieces.
See the pieces which were exhibited below: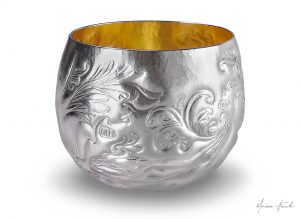 As part of the project I made an Ickworth inspired silver chased tumbler which could be won in a free prize draw. The 'Leaves of Gold' beaker was won by Mr Pease, from a nearby county and was presented to the happy owner at the conclusion of the exhibition.
The brief for a beaker, commissioned by the Goldsmiths' Company as the prize for a free draw open to all visitors to the exhibition, was that it should encapsulate something from Ickworth itself.
The Making Process of the Leaves of Gold Tumbler
"My inspiration was touched by whispers of blue painted on a Ming porcelain vase, carved leaves surrounding tall mirrors, and the sinuous grain of the Ickworth Oak Table. These all blend together to illustrate the gentle embrace of Nature's hold on Ickworth House, both past and present. The 'Leaves of Gold' tumbler evokes the strong foundation that Nature eternally provides for us, allowing communities to thrive as they have done at Ickworth House for centuries.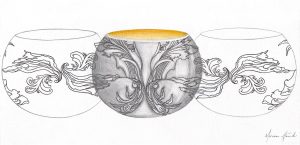 I feel truly thankful to The Goldsmiths Company, an organisation devoted to supporting the craft of silversmithing, through nurturing young artists like myself at the start of my career, as well as promoting contemporary silver through travelling exhibitions, lectures and programmes.
I'm grateful to both the Goldsmiths Company and the National Trust for showcasing my work in such a grand, unique setting and making this exhibition possible. It's a joy to be exhibiting alongside the great artistry and craftsmanship which makes Ickworth House so special." Miriam Hanid, 2012

Studio Silver Today for me evoked a quality of 'sharing' the work I do with hundreds of visitors who walked through Ickworth House every Saturday. Throughout the duration of the show I was able to talk to visitors about my work and demonstrate my skills at a workbench set up within the body of the exhibition.
It was a unique chance to give others a taste of the journey I make with a piece of silver: from a flat sheet of metal, which is then hammered, filed and polished, to a sculptural piece of silver to be used and treasured.
View other finished work in the gallery or take a look at items available for sale in the shop.
Featured image: Photo by Daniel Jones