"What greater gift than the love of a cat?" – Charles Dickens, Great Expectations.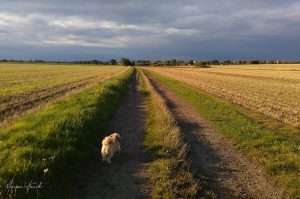 Although I love my dog, I am also definitely a cat lover. Having grown up with two, each quite different in nature, I have a very long and lasting connection with cats. Mine was a potato eating and sharp-clawing but very lovable cat. She used to perch on the fence with a hind leg on the top and the other just dangling and didn't seem to ever fall off!
I've always believed in the 'stress reducing' qualities of pets, as often referred to in scientific studies, (see this great article!) but feel this is too limited a view of all of them. In my opinion pets become very much part of the family and share our emotions, good and bad times and everyday lives in a completely unique and sensitive way.
Our dog Thyme (we didn't name him, he was rescued and didn't respond to anything else!) is a treasured friend and partner in all the goings on here in the Hanid workshop. Although he doesn't like the sound of heavy hammering, he regularly stands at the door of my workshop waiting for his daily exercise. I'm then torn away for a brisk walk through the surrounding fields, which is often a time for reflection, inspiration and an opportunity to ruminate over my latest ideas about work and life.
When I was asked to engrave a silver box inspired by the client's cat, I was naturally inclined to study feline fur patterns, face shapes and details, and collaged them all onto a board to inform my sketching. I was also given some images of Pixie to look at, although not being satisfied with the level of detail, I couldn't resist doing some extended research.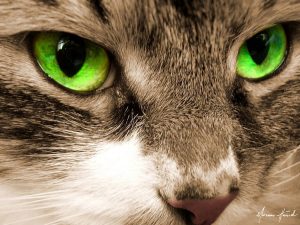 I found many subtle differences in face shapes and fur markings between large and small cats. I came across lots of enticing images of cats eyes, and breathtakingly detailed photographs of lions' faces as well as macro shots of their evenly dappled fur. I was reminded of the worship and reverence the Ancient Egyptians had for cats in their rituals and ceremonies, and how they were regarded as symbols of grace and poise.
After much sketching I decided on a pair of golden eyes watching piercingly through black gold and silver fur. Often the colours and textures which will be used in my pieces come to my mind first, and then the actual design is worked out later. I imagine what feeling the piece should have, and then work to unify it into a design which embodies the textures I have visualised in my mind.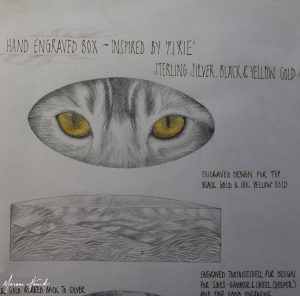 A highlight with this particular commission was its timing since I was able to take the piece to Malcolm Appleby's workshop in Scotland to work on it there. As part of the Goldsmiths Company Master Craftsman Internship, I spent five days in Malcolm's workshop with a group of 5 others, sharing skills and expertise relating to the art of engraving. I made a film about the trip which you can view here. Also of great benefit were Malcolm's tools and equipment, most of all the Zeiss Headloupes which are 4.5x magnification and make a world of difference when engraving very small areas in detail. There was of course a resident cat for further feline inspiration and my client John Andrew, who has a long standing association with the world of silver, especially as curator of The Pearson Collection, came on Visitor's Day and was able to view progress.
Following many more hours of engraving after I returned from Scotland, the Pixie Box was finished and below are some photos from the making process.
John was very happy with the final result:
"I have known Miriam for many years – indeed we first met when she was studying at Bishopsland in South Oxfordshire from 2007 to 2008. It was obvious that she had great talent and was a person 'to watch'. Over the years I bought her work and waited for an opportunity to commission something special. 
Having a penchant for boxes we discussed her making one for The Pearson Collection. I suggested an owl theme but Miriam hesitated. At that moment my cat dropped by to say hello, so I suggested a feline theme. This ignited a spark in Miriam and photographs of Pixie were duly emailed to her. She came up with several designs, which we discussed and I chose the combination I liked best. She was working on the box when I was a visitor at a symposium at Malcolm Appleby's studio – and it was in fact he who had ignited her enthusiasm for engraving several years earlier.
The box was delivered on time and the whole process of being involved with commissioning the piece adds a dimension to its ownership that one does not experience when selecting an item that has been made for stock. The box was greatly admired when it was displayed at Elements 2, the festival of gold and silver held in Edinburgh in November 2016."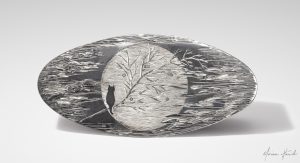 I was delighted to receive a Christmas card featuring the Pixie box from John and he was kind enough to answer a couple of questions regarding my work. I wanted to find out what inspired him to commission a piece from me.
I am especially thrilled with his response as John has so much experience in the world of silver. Along with his career as curator, he has also co-written an encyclopaedic and erudite tome entitled 'Designer British Silver: From Studios Established 1930-1985', published by the Antique Collectors' Club. See also the Pearson Silver Collection which is widely regarded as the largest of its kind in private hands.
Emma Boden from Armadillo Central, who often works with me, asked him what in particular drew him to my work from a craftsmanship point of view, as well as what resonated with him from an artistic point of view: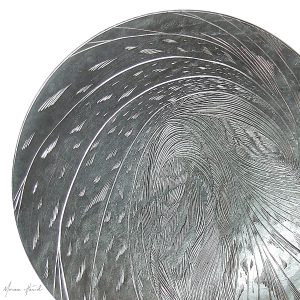 " 'Je ne sais quoi.' When you look at as much silver as I do, there are certain pieces that 'shout' at you, on rarer occasions the complete work of a designer-silversmith – which is the case for Miriam's work. It is the design that first drew me to Miriam. There was a persistent confidence here. In the early days, I particularly remember a pair of chased diamond shaped napkin rings which she displayed on black table linen. They were exquisitely chased. There was no hesitation – I bought them. I liked her ripple-effect centrepieces, but when forming a Collection there are always competing demands. It was after her visit to Malcolm Appleby's that she entered a new phase – engraving. I bought a small pair of dishes and was later blown away when I saw a vase she had engraved. When I came to commission Miriam I wanted a 'masterpiece' of her engraving skills. Of course, it goes without saying that Miriam is a superb craftsperson with a high degree of technical competence. This is a perfect combination."
See the gallery below for silver pieces John purchased over the years for the Pearson Collection.
My second question was a bit more tricky, and focused on what he felt distinguishes my work from others in the same field?
"Not easy to answer. She seems completely confident with her medium, but is always looking for improved or new techniques. What I liked about the Pixie box was the black gold gilding, which I think was an innovation for her."
And an innovation it was indeed, I hand-engraved through it which I hadn't done before, so it was also a discovery. And he is also right about my constant search for improved and new techniques. This is as important to me as perfecting existing skills. See more on the Chasing and Engraving pages.
Watch the video below for some further insight into the making of the Pixie Box.