Britannia Silver, 50x50x5cm. Hand chased and repoussé chased on pitch and formed with nylon and wooden tools.
Commissioned by The Goldsmiths Company in 2017 for The 2014/15 Prime Warden's Special Commission.
Since preparing this blog for publication, and running a series of posts on my Instagram account charting its making, I have won a number of awards for my Radiance Centrepiece, so I hope you will enjoy reading this all the more. I am thrilled to add details of the awards, received at Goldsmiths' Hall on 26th February 2018 during the Goldsmiths' Craft and Design Awards ceremony, affectionately known as the 'Jewellery Oscars'.
I am most proud of receiving the Goldsmiths' Company Award for Radiance which is given at the discretion of the Council for exceptional and outstanding design in 2D and 3D entries. It is only awarded when, in the Council's judgement, an entry achieves the highest standard of design and originality. I am doubly proud and grateful that the vote achieved 'a clear majority'! The citation states that
"the winner of this prestigious Award has beautifully demonstrated how a designer can absorb, harness and brilliantly utilise a deep rooted and traditional craft technique to fabulous visual statements of design, and like a good piece of jewellery, this looks as good on both the front and back. It flows, shows liquid qualities and is on a scale that mesmerises and captures great attention and admiration. It is a fine example of a designer making the technique of chasing come alive and offer outstanding aesthetics."
I also received a Gold Award for Chasing and The Senior Award – this is given to an entrant who has shown outstanding performance in the competition. The Goldsmiths Council described the Radiance centrepiece as "a fabulous demonstration and utilisation of the traditional technique of chasing". A bronze award was also given for the silversmithing design of Radiance.
Radiance Centrepiece Inspiration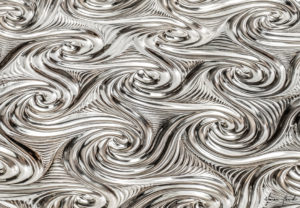 The inspiration for the Radiance centrepiece comes from the interconnectedness between diversity among people and diversity itself acting as a catalyst in highlighting a common unity.
The initial thoughts for the piece stemmed from the notion that there is 'Unity in diversity and diversity within unity'. The fact that we are all the same, yet also unique and different to varying and sometimes very subtle degrees, and that we can work together in so many ways ultimately gives rise to an infinite pattern of interwoven strength and character. I envisioned this concept as forming a complete whole. Time and space frame this phenomenon as well, in a manner that results in it becoming impossible to distinguish any given beginning or end.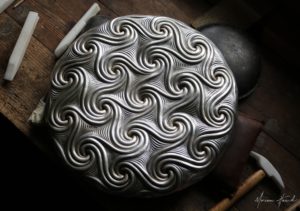 Each component is inseparably linked to the next, and so on throughout the entire piece, with no single section escaping the unity of the design as a whole. To remove one arm of one spiral would remove it from the next. To follow the arms of each spiral into the inner and outer circles is complex to perceive with the mind. Certainly for me it seems easier to take this in 'at a glance' and absorb it with the heart and an intuitive eye. It is this transition from conscious, mental thinking to the intuitive that is at the core of both the inspiration and the subtext behind the Radiance Centrepiece. This same philosophy informed me as I worked on it.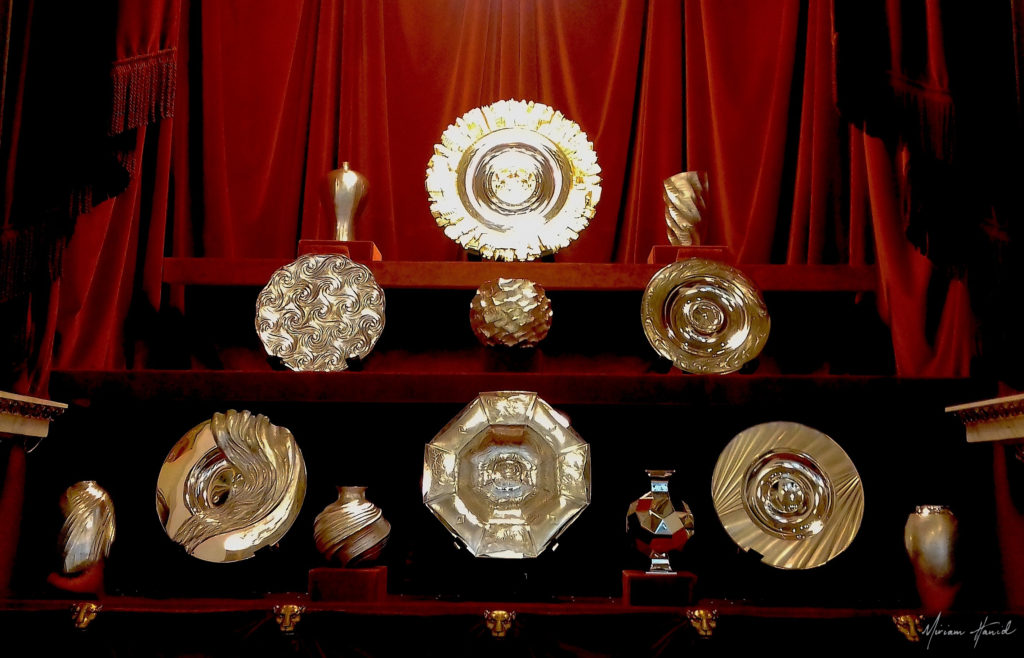 The Prime Warden's Special Commission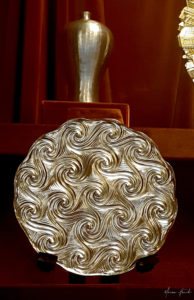 The Radiance centrepiece is a Prime Warden's special commission placed by The Goldsmiths Company in 2016/17 to commemorate Mr William Parente's year as Prime Warden in 2014-2015. I was thrilled to be asked to make it and even more so because the centrepiece was not confined in its design by function. The brief was that it had to have a diameter of 50cm and integrate itself elegantly into the Modern Plate Display (pictured above). This display features significant works in silver by the UK's leading contemporary silversmiths.
I met with William twice to talk about inspiration and possible ideas and he was happy for me to develop concepts which would allow maximum creative expression. I mentioned the idea of 'unity in diversity, diversity within unity' and this resonated with him too. I asked him to reflect on any feelings or themes which he would like to see in the piece, and later on, at our next meeting, he came back with just one word, which brought the underlying effect of the two initial themes to life: 'radiance'.
Pencil and Paper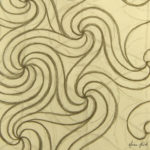 I made some initial freehand sketches of my envisaged design whilst on a retreat at Vrads Sande Heartfulness Meditation Centre in Denmark and choosing from one of two very similar versions I methodically drew it up in a mathematical manner. This technical drawing took three full days with moments of confusion, sitting at my designing desk with paper and pencil! It involved the use of geometry, colour coding (which helped enormously) and tessellation across many a sheet of tracing paper in order to achieve the finished design. Although the mathematical workings of this project weren't the most enjoyable part of the creative process for this commission they were somehow one of the most satisfying.
Having developed the foundation of the centrepiece's design I discussed the title with William. Since the theme of 'radiance' had been an ongoing part of our conversations, we decided this was a natural fit for the piece's name rather than 'unity in diversity'. It felt better suited, being a shorter title, and also highlights one of the many outcomes in developing unity in diversity, namely radiance – a sensation which is barely perceptible yet undeniably powerful when present.
In my mind where there is harmony, with oneself and others, this engenders interactions which reflect a spirit of cooperation and collaboration, thus creating radiance, effectively a natural by-product of unity in diversity.
Hammer and Punches
The Radiance Centrepiece was chased twice on both sides on pitch (a tar-like substance) before being shaped on wooden and nylon formers handmade to scale for the piece.
The heavy hammering involved in creating the deep chased waves was physically demanding so I limited this to a few hours a day. Working strategically from opposite points on the outside, and then the inside rings towards the centre, allowed me to fall into a natural working rhythm.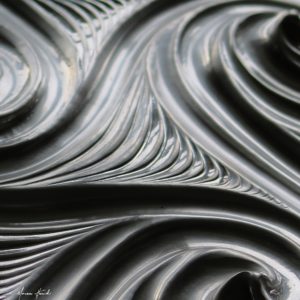 The ensuing progress was relatively fast although the time taken to make the piece was close to two hundred hours. And it was also an effort of endurance, stamina and continuous striving for perfection to chase the design accurately and evenly. At the time I often felt immense gratitude for the opportunity to design and make such a piece. I think it has been one of the most enjoyable in terms of making and creating to date. I actually wrote that line and most of this blog before I knew that I had won the awards so I am even happier now!
The Finishing Touches
Radiance was worked on by a number of skilled craftsmen, notably to complete the hand engraved inscription, the edge wire on the reverse of the piece and the final satin effect polishing which brings a lustrous radiant finish to the chased design. It was engraved on the reverse – 'William Parente – 2014-2015' to mark his year as Prime Warden of The Goldsmiths Company.
I hope you've enjoyed reading about this recent commission. You may be interested in reading more about the commissioning process. You might enjoy seeing other work in my gallery or reading about my Diamond Jubilee Commission for The Queen. I've also just launched an Awards page and feel particularly proud to be able to add the Goldsmiths' Company Award and others received in 2018, a wonderful way to start the year!