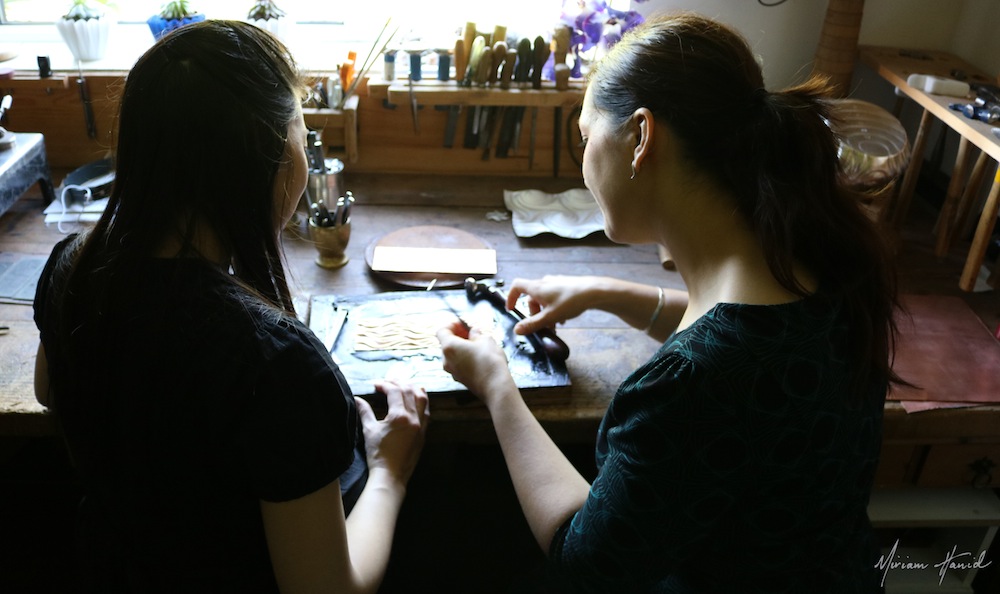 Would you like to learn or explore the technique of chasing and repoussé? It's a wonderfully versatile technique which can be applied to your work in a whole array of different styles.
I run individual and small group workshops in chasing and repoussé, which is part of my signature style. If you're a beginner, I can introduce you to the technique and give you the grounding to explore it further. If you're a graduate, a more advanced silversmith or even an experienced jeweller I can help you to investigate different themes within or alongside your existing work. Using handmade tools and custom shapes to fit your chosen work scale and style, you can use chasing to create beautiful effects through form, shape, texture and pattern in a range of metals – the most frequently used are copper, gold and silver.
My next course is a 4 day workshop at :
The Goldsmiths Centre, Britton Street, London
25th – 28th October 2017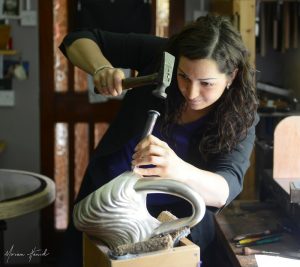 Key topics will include:
Pitch recipes and working with pitch in a tray
How to work with hot pitch and clean pitch safely
Preparation of tools (including tool hardening)
Tracing, faceting, texturing and planishing aspects of chasing
Preparation of metal and transferring your design onto metal
Different ways of transforming a design into 3D
Deep repoussé work and forming
You will also have an opportunity to see chasing tools in full use and gain practical experience in using them with supervision or guidance as required.
To find out more visit the dedicated page on the Goldsmiths Centre website. **Please note that members are given priority on bookings – membership is free via the completion of a short form – so  I advise you to sign up before you book, unless you're already a member.
Looking forward to seeing you on the course! All enquiries via the Goldsmiths Centre page please.
Join my dedicated Workshops and Courses Mailing List to be kept up to date regarding latest classes and workshops which you can sign up to on any page throughout the site.
Sign up to receive information and updates about Miriam Hanid's Chasing and Repoussé Workshops